We hate it when we are getting ready for work and there's no hot water! You end up having a bad start to the day that you can't seem to shake off. You need not worry, we can fix most broken water heaters on the same day. Water heaters are most commonly affected by leaks, but a leak won't prevent the water from heating.

When there is no hot water, the most likely cause is an out-of-order pilot light. The water heater usually comes with instructions on how to re-light the pilot light, but be aware, you MUST first check to make sure you don't have a gas leak or any standing gas in the enclosure.

Most water heaters are kept in confined spaces, such as a water heater closet or an outdoor extension.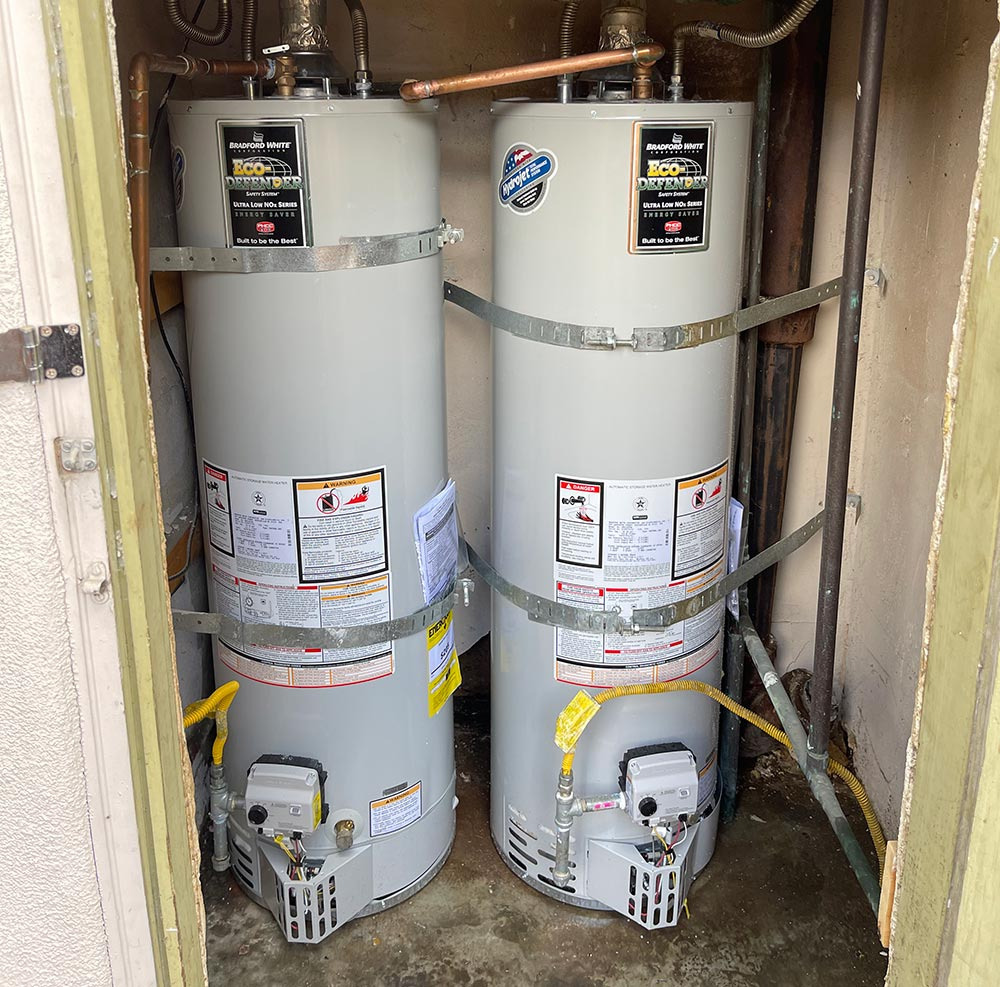 It can be quite dangerous to re-light the pilot light if there is a leak of gas in such a confined space. It could cause a life-threatening explosion if there is a gas leak in that area. Make sure that you have opened the door to the enclosure of the water heater to air it out and that you have kept it open for at least five minutes. Also make sure you are not experiencing a gas leak before you proceed any further.

In the event that your water heater is leaking, this might be either a very simple fix or one which is not so simple to fix. There are different places where a leak can occur; the input valve, the pressure release valve, or the bottom of the heater itself. For each of these leaks, a different repair procedure needs to be employed.

Generally, if the leak is located at the bottom of the water heater, you will need to replace the water tank. The reason is that a leak at the bottom of a water heater is often a sign that the heater has become rusted out internally and becomes unable to function as a water container.

No matter what the issue is, Absolute Pro Plumbing's expert technicians have been repairing water heaters for years and can probably have you back to hot water in your home in no time at all. Feel free to contact us now; we know you'll be happy you did.

Address
32108 Alvarado Blvd #263, Union City, CA, 94587, United States
------------------


Contact
Phone:
510-364-9926





@:absoluteproplumbing8@gmail.com
Hours
Monday 8:00AM-5PM
Tuesday 8:00AM-5PM
Wednesday 8:00AM-5PM
Thursday 8:00AM-5PM
Friday 8:00AM-5PM
Saturday 9:00AM-2PM
Sunday Closed